New CD!
Video with bonustrack "A dream, a dream, a dream" see on YouTube!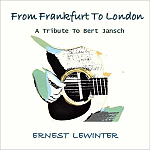 Ernest Lewinter präsentiert bei seinen Soloauftritten Songs der Londoner Folkbluesszene der 1960er und frühen 1970er Jahre um die legendären Songpoeten und Akustikgitarristen Bert Jansch, John Renbourn und John Martyn.
Sie und einige ihrer zeitgenössischen Wegbegleiter aus dieser ungewöhnlich innovativen Zeit gelten oft auch als Vorreiter und Vorbilder für die moderne Singer-Songwriter-Gitarristen Szene – nicht nur im englischsprachigen Kulturbereich.
So war Bert Jansch wohl der erste europäische "singer-songwriter-guitarist", außerhalb der Mainstream-Musikszene, der solistisch Konzerthallen füllen konnte. Seine selbstgeschriebenen Songs begleitete er mit akustischer Gitarre und einem stilistisch einzigartigen Gitarrenstil.
In den Songs der "London School" ist oft eine geistige Verwandtschaft zum Blues oder dem französischen Chanson spürbar, sowie zu den Wurzeln anglo-keltischer Folktradition.
"Ich bin sehr glücklich darüber, dass ich Jansch bei vielen Gelegenheiten, sowohl bei seinen Solo-Auftritten, als auch mit den Bands ´Pentangle` und ´Conundrum` oder in verschiedenen Duos live sehen konnte, sowohl in Deutschland, als auch in England. Ähnliches gilt auch für John Renbourn oder John Martyn, Wizz Jones oder Davey Graham und für etliche andere ihrer Wegbegleiter aus der britisch/irischen und nordamerikanischen Szene jener Zeit."(Lewinter)
Ernest Lewinter presents songs of the London folk blues scene from the 1960s to the early 1970s in his solo performances. Figureheads were the legendary song poets and acoustic guitarists Bert Jansch, John Renbourn and John Martyn.
They and several of their contemporaries of this extraordinary and innovative period are considered to be pioneers and role models for the modern singer-songwriter-guitarist scene – not only in the English speaking music culture.
Thus Bert Jansch was the first European "singer-songwriter-guitarist", who was able to fill concert halls as a solo artist, outside the mainstream music scene. He accompanied his self-penned songs on acoustic guitar and with a unique guitar style.
One can often feel a spiritual relationship of the songs of the "London School" with the blues or the French chanson or the roots of the Anglo-Celtic folk tradition.
"It makes me very happy having seen Jansch perform live at numerous occasions both as a solo performer and with his bands ´Pentangle` and `Conundrum` or in diverse duos in Germany and England. I can also say that for John Renbourn or John Martyn, Wizz Jones or Davey Graham and many others of their musical companions from the British/Irish and North American scene of that time."(Lewinter)